Spanish Speaking, Writing, and Conversation Center
Hours/Availability: check schedule in description
Location: 121 Phillips Hall (PH)
Email: claire-frances@uiowa.edu
Phone: (319) 335-0188
Website: https://uiowa.mywconline.com/
About the Spanish Speaking, Writing, and Conversation Center
Feedback and suggestions on Spanish papers, presentations, and projects. We can help you improve your linguistic and cultural confidence!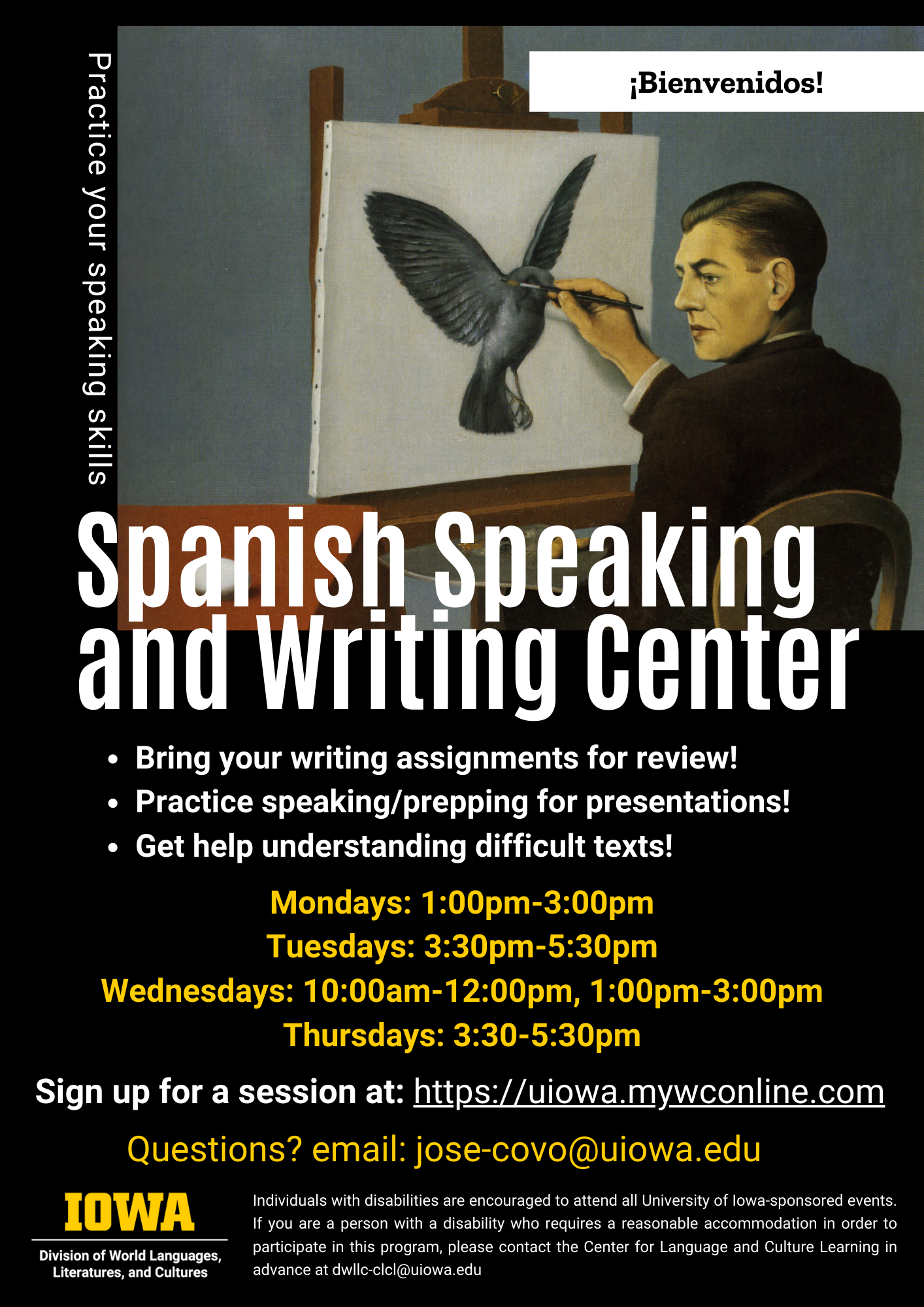 How to make an appointment:
Go to http://writingcenter.uiowa.edu, Click on "make an Appointment" and then the link to register for a free account. Then check your UI email for a link to activate the account. Once you're logged in to the online schedule, select "Spanish Center" from the drop-down menu. Look for an available appointment (a white box) and click it to reserve a 30-minute appointment. 
Services are FREE and available to all students enrolled in SPAN:1502 and above!
To learn more about the Spanish Speaking, Writing, and Conversation Center, check out their website!
What to Expect
You will sign in before your appointment when you arrive to the SSWCC and then you will meet with your assigned tutor and discuss how we can help you (speaking/pronunciation practice, writing, etc.) Your tutor will help you develop strategies to become a more autonomous Spanish language learner. You can use the computer and the printer in the center for tutoring purposes.
How to Prepare
Bring the instructions for your assignments, your ideas, and any other materials that you think will be helpful for you. It's ok to stop by at any stage of development in your assignments!