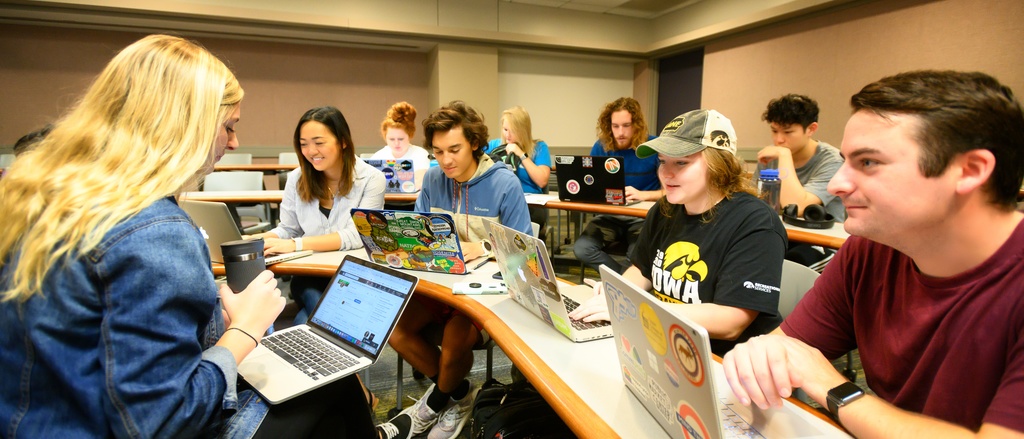 The University of Iowa has decided to take a hybrid approach to learning as a precautionary measure to limit the spread of COVID-19 amongst the Hawkeye community. While taking classes online can potentially bring about challenges for both students and instructors, it is important to be patient and utilize the same resources you typically would for in-person courses!
That said, it is also important to check in with each help lab or resource center you would utilize for your classes to determine their hours and any changes to the support they offer. We will also be keeping the Tutor Iowa website as up to date as possible to ensure you are able to find information on these resources and the adjustments being made to their traditional support offerings.
A great way to gain a deeper understanding on how to approach online classes is by watching the Success at Iowa modules about virtual learning. For those unfamiliar, Success at Iowa is a required online course for new undergraduate students at the University of Iowa. It is designed around the five stages of transition that most University of Iowa students experience at the beginning of their college journey. The course provides students with information for each stage of their transition to help them reach their goals and get the most out of their experiences at the University of Iowa. Check out these modules by clicking on the following links:
As another means of helping you navigate this transition, we have created several Academic Tips worksheets, including a "Top 10 Tips for Navigating the Online Transition" for you to utilize throughout the semester. The PDF for this resource and all other Academic Tips Worksheets designed with the virtual class experience in mind can be found on the Academic Tips Worksheets page, within the Virtual Learning menu.
Whether you have taken online classes or not, this transition is likely to require a unique approach from traditional in-person course formats. If you are finding it challenging to navigate how to connect with your professors during this time, check out our "Talking to Faculty Guide." If you are unsure of where to turn with questions or concerns, we encourage you to check out our description of offices on campus and the Office of the Dean of Students. Additionally, if you are in need of further support in this transition, please email tutoriowa@uiowa.edu and we will help however possible.